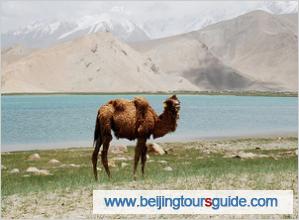 Karakuli Lake is in Kashgar about 1500 kilometers from Urumqi in southwest of Xinjiang. It is about 3600 meters above sea level. Its surrounding mountains Muztagata is 7,546 meters above sea level, and the Gongeer Peak is 7,719 meters above sea level. Muztagata is among the 10 highest mountains of the world. And its steep and snow-covered appearance gives it an exotic style of mountain. Especially from the lake Karakuli side, people can see two Muztagata at the same time: one is the real Muztagata, and the other is the crystal reflection of it.
This is the best place for tourist to enjoy a horse back trek and mountain climbing. Horse back trek around lake is only to take about 3 hours. You may ride on a horse back to hang around the lake. Or you may get a little bit closer to the gigantic Muztagata. It is all depend on yourself. There are also some villages near Lake. Local Kyrghiz people are hospitable. They mainly do the husbandry business. Although life would be a little hard for them in a plateau environment like this one, they believed that they are blessed by the Soul of Muztagata. They call Muztagata the "father of glacier".
Karakuli Lake is a perfect place for enjoying the beauty of huge mountains and lakes.
Prev:
Sunday Bazaar
Next:
Summer Resort