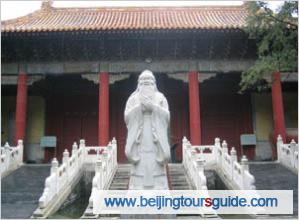 Located near Guozijian (the Imperial College) and Lama Temple, it is the second largest Confucius temple (the largest in Confucius' birthplace in Qufu, Shandong Province). It was built in 1302 during the Yuan Dynasty to honor Confucius, the greatest educationalist and thinker in ancient China. Then it experienced several times renovation and expansion in Ming and Qing Dynasties. It was once Beijing's main temple and now a pleasant place to stroll and appreciate the ancient times.
During the three dynasties, the Temple was the site to hold examinations to choose the candidates for the imperial bureaucracies. Examiners had to answer the paper being locked up in a small cubicle for 3 days. There are 198 stone tablets where were imprinted with 51,624 names of the successful candidates (called Jinshi, literally the advanced scholars) of Yuan, Ming and Qing dynasties. In addition, another 14 stone stele pavilions constructed in Ming and Qing Dynasties record the precious historical data about ancient China.
Dacheng Hall (Hall of Great Accomplishment) is the main building in the temple where the memorial ceremony for Confucius was held. In front of the Hall, a noted ancient tree stands uprightly called Chujian Bai (Touch Evil Cryprss), No. A00922. The name has a legendary color .According to the unofficial history, during Ming Dynasty, an evil chancellor called Yan Song came to worship Confucius on behalf of the emperor. When he was passing the cypress, one of the branches took his hat off, which was thought by people that the old tree could recognize the evil people. Hence its name came out.
Confucius and his thought were extremely esteemed in Chinese ancient societies and emphasized much by the governments of dynasties. In the temple, you can find some royal architectural decorations, for example, the yellow painted tiles and the dragon pictures which stand for the emperor and his authority, thus reflect the importance of Confucius.
Entrance fee: 10RMB
Prev:
Beihai Park
Next:
Xiangshan Park (Fragrant Hills Park)