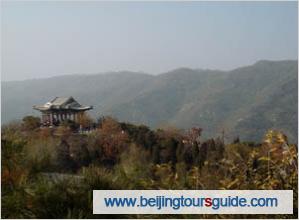 Xiangshan Park, located on the east side of Western Hills, 25 km away from the center of Beijing City, is a large royal park of hills and forest covering 160 hectares. It is recognized as one of the ten most famous parks in Beijing.
The park got its name according to two versions. The first statement is due to the shape of the peak. With two big stones lying on it, the peak looks much like a three-legged incense burner (xianglu) in a distance and on a mist-shrouded day, so the hill is called Xianglu Shan or Xiangshan. The other saying is that the hill was named because of the scent of the apricot blossoms spread all over the hill. Xiang means fragrant so Xiangshan was named.
One of the popular tour interests here is to see the red smoke tree leaves over the mountains. Every year in the autumn, thousands of tourists come to the park so as to appreciate spectacular scenery of reddened Xiangshan by the fiery leaves.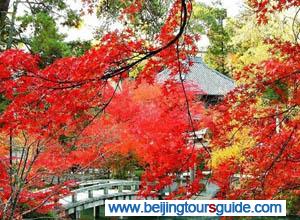 Fall Foliage at Xiangshan Park
Beside the beautiful natural sceneries, there are also abundant cultural relics and ancient buildings in the park. Terraces, pavilions and pagodas are scattered there. Visitors may take two main routes to explore its attractions. One is the north route. You could see Yanjing Lake (Spectacles Lake, formed by two pools similar as glasses); Jingxin Zhai, well-known as the 'the park inside Xiangshan Park'; Bright Temple(Zhao Miao), a large lamasery complex built in 1780 as the residence for the sixth Panchen Lama during his visit to Emperor Qianlong. The other is the south route where the main attractions include Jingcui Lake (Tranquility Green Lake), ruins of Fragrant Temple, burned and ransacked two times respectively by the Anglo-French Allied Army and the Eight-Power Allied Forces; Shuangqing Villa and Incense Burner Peak and other historical sites. Shuangqing Villa holds a significant status in Chinese modern history: it was Chairman Mao Zedong's residence and the headquaters of the Central Committee of the Chinese Communist Party when they entered Beijing.
Xiangshan Park presents a harmony with nature and it is the ideal place for stroll, liming and relaxation. The park has various trees and many are old and rare. With 98% forest coverage, the park is filled with the highest negative oxygen ion in recent years. The hills are only 557 m in altitude and are quite good for climbing and both tourists and Beijing citizens would like to do the climbing with the birds singing, streams flow, leaves fluttering and squirrels playing with each other among the green.
Entrance fee:
April 1-November 15: 10RMB
November 16-March 31: 5RMB
Prev:
Temple of Confucius
Next:
Capital Museum