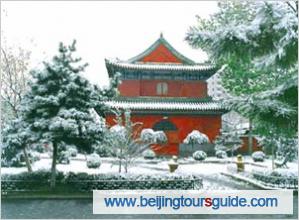 The Temple of Moon Park is located in Xicheng District, Beijing. The park was built to better the protection of the Temple of Moon, the altar where emperors in Ming and Qing Dynasties held sacrifice ceremonies to the God of Moon and other gods of stars. Several ancient architectures maintain well and some new buildings were constructed with the old style.
The theme of the park is 'moon' and has become a popular tourist attraction and an ideal place for enjoying the moon. Many pavilions have their names related with moon or the Chinese legends about moon.
The park covers an area of 8.12 hectares and could be divided into south and north two parts. The south park is featured with ancient architectures and regular roads while the south one is a pattern of natural landscapes formed by hills, rocks, ponds and roundabout paths. The Altar of Moon is the main building there where emperors offered sacrifices to the moon god and other star gods every autumn equinox. The altar platform doesn't exist but the Celestial Gate, the Gods Storage House and the Bell Tower are well preserved. The south park is kind of romantic. There is sweet osmanthus in the Heaven Fragrance Courtyard, classic music about moon from the open-air music tea house, and the colorful music fountain. Besides, at the west foot of the hill in the south, there is crystal pool where stands a statute naming 'the Goddess Chang Er fly to the Moon', which originates from a well-known Chinese myth that the beautiful Chang Er had an elixir and then fly to the moon, becoming an Goddess.
Bus Line:
Take No.13,15,19,21,42,45,65,特4,823 and get off at Yuetan station.
Open Hours:
6:00-21:00
Admission Fee:
RMB1
Prev:
Jingshan Park
Next:None