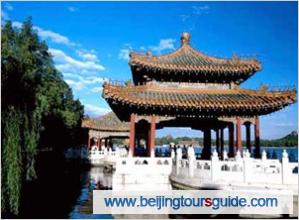 Jingshan Park, located in the north of the Forbidden City, right at the center point in the axis of old Beijing, was served as a royal garden in Yuan, Ming and Qing Dynasties.
Jingshan Hill is the origin of the park's name. The hill was piled up with the miscellaneous soil obtained during the palace removal and the mudsoil from the moat surrounding the Forbidden City. It was called the Long-live Hill where at the top grows pines and cypresses while at the foot plants various fruit trees named 'hundred fruiter garden'. In 1644, the last Ming emperor Chongzhen hung himself in the locust tree at the east slope of the Jingshan Hill, which indicated the fall of Ming Dynasty.
There are several scenic spots worth seeing. First are the three gates of the park: Jingshan Gate in the south, Shanzuoli Gate in the east, Shanyouli Gate in the west, all of which are in typical traditional Chinese design. Another is the Qiwang storied building where originally held the memorial tablet of Confucius worshipped by emperors. The Five Peak Pavilions are outstanding, scattered in 5 different peaks and there had been many valuable relics inside but was robbed or destroyed by the eight-power allied forces. Wanchun Pavilion in the middle peak is the highest point in the axis of old Beijing city and thus the best view deck for old Beijing. Shouhuang Palace was the imperial ancestral temple in Qing Dynasty worshipped the statutes of Qing emperors while now it is served as Beijing Children's Palace. In addition to the numerous places of interests, in the park there is the largest peony sightseeing garden in Beijing. Every May, 200 varieties of 20,000 peonies compete on blossoming, which makes the ancient park outstandingly enchanting.
There is an amazing discovery about the park that from the photo taken by the satellite the landscape of Jingshan garden looks like a seated old man, which is guessed as the architecture work of ancient Chinese, though not verified.
Bus Line:
Take No.5 and get off at Jingshan Xijie station; take No.58,60,111,124 and get off at Jingshan Dongjie station; take No.111,114 and get off at Jingshan Dongmen station; take No.101,103,109,124,810,685,814,846 and get off at Gugong station.
Open Hours:
6:30-19:00
Admission Fee:
RMB2
Prev:
Beijing Longtan Park
Next:
Temple of Moon Park