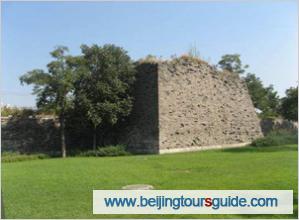 The Ming Dynasty City Wall Relics is a symbol of Beijing city. It is 1.5km long, from the corner watchtower in southeast of inner Beijing and Chongwenmen in the west, and is the only extant part of Beijing city wall fortifications which was originally 40km built in 1419 in Ming Dynasty.
The park was built with the aim at protecting the wall. It is designed in a terse way in order to highlight the incomplete beauty of the war ruins: ancient trees set off one another, green grass overlaps everywhere, and the primitive wall and the imposing corner watchtower seem to tell about the nation through the ages.
The project for the park was huge which began from Aug 17, 2002 and lasted until 2007. Actually, the preparation before the construction was also hard. Because the area had always being occupied by organizations and residents, it took 1 and a half year for them to move out and return the houses. Through the common efforts of the government and all sectors of society, the Ming Dynasty City Wall has again taken on the scene it once had, culturally loaded.
Bus Line:
Take No. 39, 25, 43, 434, 12, 525, 610, 59,29,674 特2 and get off at Dongbianmen Station.
Open Hours:
8:00-17:30
Admission Fee:
RMB10
Prev:
The Temple of Earth Park
Next:
The Lotus Pool Park