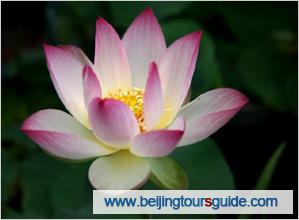 Nearby Beijing West Railway Station in Fengtai District, the Lotus Pool Park is the Beijing's first class relic park. The park has a history of 3,000 years and is regarded as the birthplace of Beijing with a common saying that 'First come Lotus Park, then Beijing'.

The park got the name due to the lotus pool inside. The lotus pool is said to be the main water source of Beijing as early as in the Jin dynasty. Currently, the lotus pool is reputed for the large plantation of lotuses which are various in species and the park has become a large lotus sightseeing based suburb park.

The park covers an area of 446,000 square meters including a water area of 150,000 square meters and a green coverage of 245,000square meters. There are 4 hills connected with each other where grow thick trees such as locust, white wax. The north bank of the pool is in a bow shape, right above it is a bridge and a small pavilion is at the end of the bridge, all of which displays picturesque scenery together with the water and lotuses. On the south shore, there is the fishing area, the children's playground and the fitness area for the middle and ole aged. Besides, the open-air dance spot is attractive. Couples or lovers dance gracefully with the music by top grade pro audio equipments.

Just imagine how pleasant it is by a boating cruise in the pool, lotus blossoming with sweet smells.

Bus Line:
Take No.1,4,300,309支,730,830,845,937支,特2,运通201 and get off at Liuliqiao Bei Station.
Open Hours:
6:00-21:00
Admission Fee:
RMB5; RMB10 during the lotus blossom (Jun-Aug).
Prev:
The Ming Dynasty City Wall Relics Park
Next:
Qinghua Park