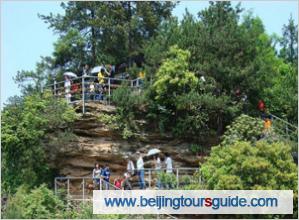 'Walk on the mountain' top with clouds beneath the feet' is the common description words about Yuanjiajie.
Situated in the northwest part of the Zhangjia National Forest Park, Yuanjiajie is a mesa mountain formed of quartzite. It is surrounded by higher peaks which are divided by deep valleys. It is a great sightseeing platform. Standing on Yuanjiajie, have a bird's view of thousands of grotesque peaks and rocks; some are lofty, some scrubby, some like towers, pavilions, stools, bonsais or chairs.
With rich waters and dense forest, Yuanjiajie is a very good place for relaxation and health. The negative oxide ion in the air is up to 100,000 per cubic meter, 500 times more than general environment.
Many attractions in Yuanjiajie are uniquely beautiful in the world. The No.1 Natural Bridge under the Sun is a natural miracle, stretching across two mountains, clouds flying, rare peaks standing right beneath the bridge. The Backyard Garden is a landscape hidden in the south of Yuanjiajie: stone forest, ravine streams, ancient trees into sky are burst up to the eyes, seemingly natural bonsais. Another is Mihuntai, the best natural observation platform.
Two routes lead to Yuanjiajie. One is from the Golden Whip Stream to the Backyard Garden; the other is by the Bailong Elevator. Bailong Elevator is world's highest, fastest sightseeing elevator with the biggest loading capacity.Only118 seconds to reach the mountain top gives you amazing experience like a fairy flying across the clouds.
Prev:
Golden Whip Brook (Jinbianxi)
Next:
Mihuntai (the stage of lost mind)