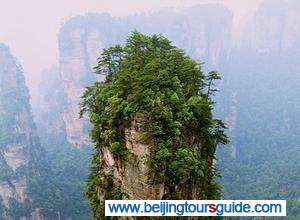 Avatar Hallelujah Spire at Zhangjiajie

Day 1 Beijing-Zhangjiajie
Today Arrangement: Our tour guide will pick you up from your hotel/apartment, drive to airport and take the flight to Zhangjiajie. Pick you up at Zhangjiajie airport and transfer you to the hotel and check in. The rest of the day is at your own leisure to walk around the hotel and in the street.
Day 2 Zhangjiajie
Meal(s): Breakfast, Dinner
Attraction(s): Zhangjiajie National Forest Park, Yellow Stone Stronghold, Golden Whip Brook
Today Arrangement: In the fresh morning, go sightseeing in Zhangjiajie National Forest Park. The park is noted for its queer peaks, tranquil water, beautiful forests and comfortable temperature; and its main scenic spots include the Yellow Stone Stronghold and the Golden Whip Brook. We will take a cable car to the Yellow Stone Stronghold, the largest and best viewpoint terrace for Zhangjiajie. If you stand on the top, you can see all kinds of queer pinnacles and also numerous grotesque peaks in the Golden Whip Brook and Golden Whip Stream which resemble a clear, crystalline jadeite. Hence, the saying: 'It can't be said that you have been to Zhangjiajie without reaching Yellow Stone Stronghold'. In the afternoon, have an amazing walk in the Golden Whip Brook, the most beautiful canyon in the world and its stream meanders 7.5 km, the most poetic stream, named as the Golden Whip Stream.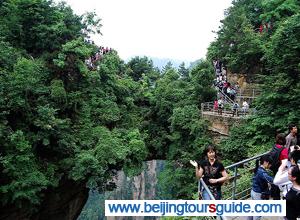 Yuanjiajie

Day 3 Zhangjiajie
Meal(s): Breakfast, Dinner
Attraction(s): Yuanjiajie, Mihuntai, Tianzi Mountain
Today Arrangement: Take Bailong lift, the highest lift in the world to Yuanjiajie, the heart of world natural heritage. Yuanjiajie is located in the northwest part of the Zhangjiajie National Forest Park; and the breathtaking Mihuntai (the Observatory of Enchantment) and the No 1 Natural Bridge in the world are its foremost attractions we are visiting. Then take a park bus for 40 minutes to arrive in the Tianzi Mountain (Tianzi, means 'son of heaven', which is the traditional epithet of the Chinese emperor). There we go sightseeing in Helong Park, the only human landscape in the natural area built for General Helong, the founder of Chinese People's Libration Army. Enjoy the sea of multitude of high peaks and the mysterious atmosphere of the Tianzi Mountain. Then take cable car down the mountain.
Day 4 Zhangjiajie-Beijing
Meal(s): Breakfast
Attraction(s): Yellow Dragon Cave
Today Arrangement: After breakfast, leave hotel to visit Yellow dragon Cave, the longest cave in the world and also an underground wonderland.
After visit, you will be transferred to Zhangjiajie airport and fly back to Beijing. Our guide and driver will pick you up at Beijing airport and transfer you to hotel/department.