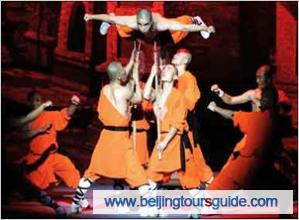 Chinese Martial arts is a precious and varied culture bequest which Chinese accumulate during the long social practice. You must be amazed by the exquisite Martial arts action. The cultural Heritage for thousands of years exposures courageous spirit and patriotism of Chinese people.
Landing top spot at the Kongfu perform theater is must be a blast of your Beijing tours, come in and to be moved in your Kongfu venture by the storyline.
Advise to order tickets in advance.
Site: Hong Theater
Stage: Legend of Kung Fu
The best place to watch the Kong Fu show is in Hong Theater with the famous stage: the Legend of Kung Fu, for thousands of years, in the vast land of China, countless Kung Fu legends took place in SONG Mountain, HUA Mountain, WUDANG Mountain that supernatural exist. This is one of the legend stories, the tale focuses on a monk wandering outside a ancient temple in a mountain China, was a little ignorant and extremely frivolous, dreamed become a Kung Fu Master, through martial arts and meditation, became success in the end.
Chinese martial arts moving on the stage makes you exclaim over its incomparable performance, audio-visual spectacle with magnificent dance mixed push you into a heaven of ancient Kong Fu.
English lines all through the play, even though you don't understand much of Chinese language or its culture, exciting could not be missed.
Show time: Daily 7.30pm-8.50pm


Related to Chinese Kung Fu Show Tour:
Chinese Kung Fu Show: from $32/p.p