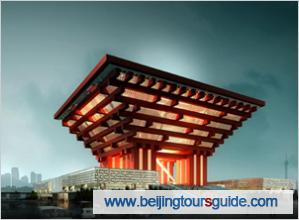 Venus: 2010 Shanghai Expo's- China Pavilion, in Shanghai
Reopen date: Dec 1st, 2010
Reopen period: half a year
Open hours: from 9:00-17:00, 7 days a week
Ticket:
CNY 20 for adults
CNY 15 for students, disabled people, military serviceman and aged people
Free for children less than 1.2m tall
China Pavilion, one of the most popular pavilions of the Shanghai World Expo, received more than 10 million visitors during the six-month event.

Now it will reopen to public on the coming Dec 1st, and remain open for half a year, according to the Expo Bureau statement.

Exhibitions in China Pavilion will mostly remain the same as they were during the Shanghai World Expo which ran from May 1 to Oct. 31. Only an exhibition featuring stories behind China Pavilion's construction and operation has been added in the waiting hall, according to a statement from the bureau.

According to the statement, tickets prices for the pavilion are: 20 yuan for adults, 15 yuan for students, disabled people, military servicemen and aged people. Children less than 1.2 meters tall will not need tickets.

The pavilion will be open from 99:00-17:00. 7days a week.

For those who didn't go or didn't enjoy the China Pavilion due to rush time during the past six-month 2010 Shanghai World Expo, this is a must-seize chance to make up!
Editor: Susan
Date: Nov 26, 2010
Prev:
Graffiti Show From NY Artist in 798
Next:
Happy Valley to Lower Its Winter Ticket Price