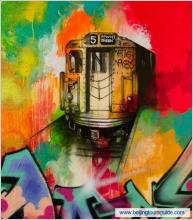 Date: Nov 6th to Dce 31st, 2010
Venus: 798's Chang Art Gallery
Artist: Chris Ellis, New York –based artist, known by his nickname "Daze"

Many of the artist's artworks have already been showcased around the world, as well as being purchased by famous art museums and galleries.

The authentic Bronx flavor - on subways and alley walls for over 30 years - has arrived in Beijing, as part of an ongoing exhibition at 798's Chang Art Gallery.

Around 20 large graffiti paintings are hanging on the gallery walls, produced by New York-based artist Chris Ellis, better known by his nickname "Daze".

Also available for public consumption is a short video that shows how graffiti artists work their magic on their home turf.

To illustrate the creative process of graffiti art, Daze, who said this is his first trip to Beijing, created a piece as part of the opening ceremony of the exhibition. This work of art is on the exterior wall of the gallery's second floor.

Graffiti might have exploded over the last three decades but related forms can be traced back to ancient Roman times and also on Mayan architectures.

The exhibition offers a chance for art lovers to explore not only what the art genre contains, but also to observe how it has come about - moving off the street and into private collections and galleries.
Related links:
79Art Zone Tour: 8 Price from $39/p.p
Editor: Susan
Date: Nov 24, 2010
Prev:
Submerged Great Wall Restored to Open to Public
Next:
China Pavilion of Shanghai Expo's to Reopen on Dec 1