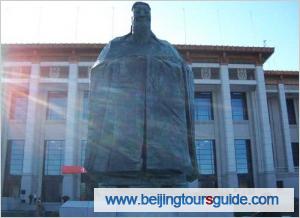 A 9.5-meter-high bronze Confucius statue has become a new landmark at the north square of Chinese National Museum nearby Tian'anmen Square Jan 11, 2011.

According to the Art Institute Museum extension project and also the statue creator, the statue demonstrates the time-honored and splendid Chinese culture.

In addition, the Chinese National Museum extension project has been completed and will open in March after a three and a half year renovation.
Related Tiananmen Square Tours:
Tiananmen Square and Forbidden City Tour
Tiananmen Square, Forbidden City and Great Wall Tour
Editor: Susan
Date: Jan 13, 2011
Prev:
Tourists Enjoy New Year Holiday in Beijing
Next:
The First Longtan International Ice and Snow Culture Festival