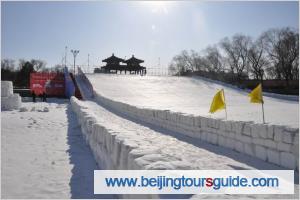 Event: The First Longtan Intetnaional Ice and Snow Cultural Festival
Venus: Longtan Park
Add.: Chongwenmen, 8 Longtan Road, Longtan Lake Park East Gate, Beijing
Opening hours:
9:30am to 7:00pm from Sunday to Thursday
9:30am to 9:00pm from Friday to Saturday
Date: Until Feb 20
Ticket:
20 Yuan from Monday to Friday and 30 Yuan at weekends
Free for the children under 1.2meter height

The capital is still waiting for its first whiteness this year.

But this can not stop them from enjoying the snow at the various of ice and snow festivals in Beijing.

And the Longtan International Snow Culture Festival is the largest one in southern part of the City.

For the first festival like this, Longtan Park attracts the tourists by the delicate ice and snow sculptures created by Chinese and Japanese artists, besides the traditional snow sports such as skiing and snowball fights.

In order to celebrate the coming Spring Festival, the Year of the Rabbit of 2011, dozens of cute bunnies to be put in the snow castle, and the visitors can feed and pet them.

The festival will continue during the temple fair held in Longtan Park.
Editor: Susan
Date: Jan 28, 2011
Prev:
New Landmark Near Tian'anmen Square: Bronze Confucius Statue
Next:None