Featured Restaurants:

Quan Ju De Roast Duck (Jinsong Branch)
Xin Shuang Quan Restaurant
Green Flower Porcelain Restaurant
Jindian Restaurant
Wahaha Restaurant
Baguobuyi Restaurant (Di'anmen Branch)
Courtyard 7 Restaurant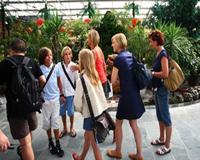 Xinshuangquan Restaurant
Xin Shuang Quan Restaurant

The restaurant is a shinning gem in Huairou District, northwest of Beijing, nearby Mutianyu Great Wall. It is more than 2,600 square meters and can host 800 guests. It mainly provides Huairou cuisine and guests can also fish for rainbow trout in the local springs. There are various activities, such as Chinese chestnut picking, complimentary moon cake, and Christmas presents. It can also serve as a center for weddings, functions, and birthday.
Cost per person: CNY80
Surrounding: Mutianyu Great Wall
TEL: 86-10-61621231
Address: East side of Mutianyu Roundabout, Huairou District, Beijing
Green Flower Porcelain Restaurant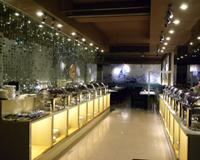 Green Flower Porcelain Restaurant
The Green Flower Porcelain Restaurant is located near the Temple of Heaven, newly opened last year. It is a tourism restaurant particularly for serving foreign tourists. The decoration reflects Chinese characteristics with the application of the world famous green flower porcelain art craft. It offers Western and Chinese buffet; over 100 dishes for your selection, including Roasted Duck, Kung Pao Chicken, Lucky Fishsteak, Italy Meat Pasta, French Pork Ragout, Sushi, etc.
Cost per person: CNY88
Surrounding: Temple of Heaven, Red Theater, Longtan Park, Beijing Amusement Park
TEL: 86-10-67165580
Address: South of northwest door of Longtan Park, No.16, Zuoanmennei Street, Chongwen District, Beijing.
Jindian Restaurant lies on the way to Badaling Great Wall and Ming Tombs. The restaurant is divided into two
Jindian Restaurant
parts: front hall of 'Asian Restaurant' and back hall of Western & Muslim Restaurant', covering an area of over 10,000 square meters with a capacity of 5,000 customers. It has got many honors from the Tourism Bureau and Health Department. The food culture in the restantrant not only highlights the national characteristics and local flavor, but also takes into account dietary habits of different countries. Over the years it has developed a set of food system special for tourist groups. Here are with the North farm food, hot pot, dumplings dinner, noodles dinner, and Sichuan, Shandong, Cantonese cuisines and Guangdong afternoon tea; Chinese & Western buffet; Muslim meal; and authentic Japanese cuisine. Guests dining here are lucky to taste Chinese food culture beside the basic dietary requirement.
Cost per person: CNY 60
Surrounding: Juyongguan Great Wall, Badaling Great Wall, Ming Tombs
TEL: 86-10-69772888
Address: Longhutai Village, Changping District, Beijing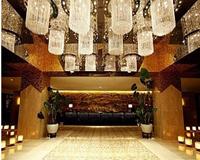 Wahaha Restaurant
Wahaha Restaurant is a five-star restaurant, well praised among its guests. It is big with the classic Hangzhou (a beautiful city in south China) decoration style: ponds, shore vegetation. The food is based on Hangzhou cruise, mainly aquatic. Several specialties has won domestic prizes, included the superior abalone, royal shark fin, and popular lobster. Have a meal here as you are in a dainty lakeside, tasting the south China culture at the same time.
Cost per person: CNY80
Surrounding: Wangfujing Street, Forbidden City
TEL: 86-10-84095855
Address: Longfusi, Dongcheng District

Baguobuyi Restaurant (Di'anmen Branch)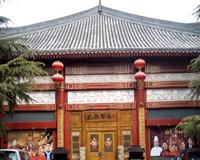 Baguobuyi Restaurant
Located not far from the beautiful Shichahai area, it is a courtyard restaurant. This restaurant is specialized in typical new Sichuan cuisine, distinct from traditional Sichuan dishes. It adopt fresh vegetables as cooking materials obtained from Sichuan and Chongqing mountain areas, in order to adapt to the customers' taste. The decoration is a well display of Sichuan architectural culture and art. Sometimes you are lucky to refresh your spirit by watching the face masks changing show and spitting fire show.
Cost per person: CNY100
Surrounding: Forbidden City, Hutong, Shichahai Lake
TEL: 86-10-64008888
Address: 89-3 Di'anmen Dongdajie, Dongcheng District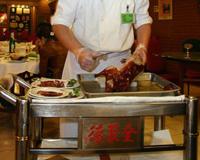 Jinsong Quanjude Roast Duck Restaurant
Quan Ju De Roast Duck (Jinsong Branch)
Quan Ju De is the first roast duck restaurant that bears the world known brand, open about 100 years ago. It was top ranked in publication as 'Elite of Chinese Famous Dishes'. Quanjude roast duck is featured by its unique culinary procedure, enchanting look and superior taste; each duck sold has a certificate respectively. When the roast duck is served, the chef will slice the duck right before the guests, which is regarded as a cultural show. Today tasting the Quanjude roast duck is recognized as a must for visitors to Beijing from all over the world.
Cost per person: CNY200
Surrounding: Panjiayuan Antique Market
TEL: 86-10-67712197
Address: No.826, Jinsong Baqu, Guangming Qiao, Chaoyang District, Beijing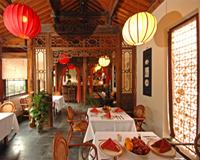 Courtyard 7 Restaurant
Courtyard 7 Restaurant

Courtyard 7 is located in the most famous hutong area of NanLuoGuXiang, Dongcheng District. The well designed Chinese style layout makes the restaurant antique and rustic. It mainly provides Chinese dishes and French dishes. Seating here, you can not only taste delicious food but also enjoy a piece of pure land and haven seperate from the busy city. Besides, Courtyard 7 is also a courtyard style hotel where guests can experience the courtyard/hutong style life.
Cost per person: CNY100
Surrounding: Nanluoguxiang, Tiananmen Square, Forbidden City, Wangfujing Street
TEL: 86-10-64060777
Address: No 7, Qiangulouyuan Hutong, Nanluoguxiang, Dongcheng District, Beijing