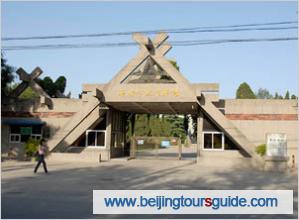 Banpo Village Site is an archaeological site being very important in the history of anthropology and sociology. The Site was first discovered in 1953. It contains the remains of several well organized Neolithic settlements dating from approximately 4500 B.C. Banpo Village Site covers an area of 5-6 hectares, and surrounded by a ditch. Experts said that the ditch was probably a defensive moat with a width of five or six meters. Houses in Banpo were circular. The materials were mud, grass, wood and stone. Foundations of the houses are low and many of the houses were semisubterranean with the floor typically a meter below the ground surface, making sure they would not be destroyed in storms and keep cool in hot summer.
Archaeologists believed that Banpo is the type-site associated with Yangshao Culture. Sites with similarities to the first phase at Banpo are considered to be part of the Banpo phase (5,000 B.C. to 4,000 B.C.) of the Yangshao culture. Pottery kilns located outside of the moat perimeter gave many evidences.
There is an argument on the Banpo Village Site's form of social organization and its ideology. Some experts believed that Banpo might be at the front phase of civilization, and with a primitive "religion" to smoothly run the society. However, some new professionals did not agree with the idea and believed that Banpo was still a little bit earlier for appearance of a religion.
Prev:
Bell Tower
Next:
Great Mosque