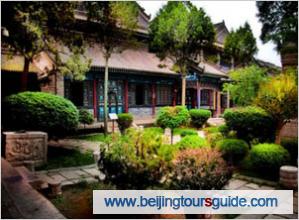 The Great Mosque was built in 742 during the Tang Dynasty (618-907). It is proved by a stone tablet inside the Mosque. Tang was the most open dynasty in China's long history, making it a place full of merchants, intellectuals and scientists from the globe. The Great Mosque was one of the evidences. It was a result of Islam being introduced into Northwest China by Arab merchants and travelers from Persia and Central Asian Kingdoms during the mid-7th century when some of them settled down in China and married Chinese women. Their descendants became Chinese Muslim later. Mosques were built everywhere to memorize Allah and ancestors. Among them, the Great Mosque in Xian was the biggest and most influential one.
Using an area of 6,000 square meters, the whole complex of the Great Mosque can be divided into four courtyards. The first courtyard contains a wooden arch. The arch is nine meters high, with glaze-covered tiles, and can be traced back to the seventeenth century. Three chambers stand at either side of the arch. Some furnitures of Dynasty Ming and Qing are well preserved in the chambers. In the center of the second yard stands a stone arch with two elegant calligraphy steles on both sides. The fourth courtyard is a big hall providing enough space for more than 1,000 people to pray.
The Great Mosque is a combination with both Chinese architecture and Islamic style. There are a series of pavilions, showing the flavor of Chinese rules of architecture. While the wall, with star and moon on the top, is definitely an Islamic style. It is said that the Great Mosque in Xian is the only mosque in the country that is open to visitors. Actually, mosques all over China are opened to the public, but it is not their main business for attracting tourists. Non-Muslim visitors are not allowed to enter the main prayer hall. Keeping quiet is necessary and respect for the religion is needed everywhere inside the yards. The Great Mosque in Xian was added to the UNESCO Islamic Heritage List in 1985. It is a fine place to know the trans-cultural exchanges and unique style of architecture.
Prev:
Banpo Village Site
Next:
Hua Qing Hot Spring