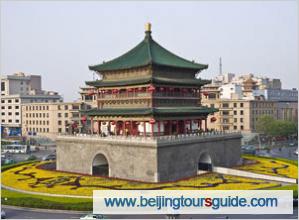 Bell Tower locates at the most prosperous crossroad of Xian. Early morning in ancient times, sound of ringing bell would come out of the tower and gave the correct time to the whole city. Years after years, Bell Tower became the symbol of Xian.
The Bell Tower was build in 1384, a year of early Ming Dynasty. At first the bell was at the center of Xian City. In 1582, Xian got expanded, so the location of the Bell Tower changed. People pulled down the old bell tower and rebuilt a new one in the center of the new city.
The Bell Tower's bottom is square and it covers an area of 1,377 square meters. It is 8.6 meters high and 35.5 meters wide and built completely with green bricks. There are three layers of eaves outside the tower, and under each eaves come with colorful engraved arcs. Before the moving project, there was a copper bell in the tower named "Jingyun Bell". Its sound could spread over several kilometers. Later, the Jinglong Bell moved in the Bell Tower. The replaced Jingyun Bell was well-preserved in the Beilin museum of Xian. The new bell was made in Ming Dynasty and weighed 2,500 kilograms. From that day the Bell being placed in the position, its sound had accompanied civilians of Xian for over 400 years. The "bell sound" nowadays is actually not from Jinglong Bell, but a duplicate sound from the real bell.
The Bell Tower has witnessed almost all the big events happened in the city. Its function also went beyond the timing tower. In the Revolution of 1911, it was used as a telephone bureau. In 1927, it became a cinema and in 1928, a planetarium. During the Anti-Japanese War (1937-1945), it was served as a meteorological observatory and a warning platform, a prison, and so on. Nowadays it is the city scenic spot attracting eyes from everywhere. The Bell Tower is so convenient in traffic that you can walk to Xian's many prosperous blocks easily with the Tower as the start point.
Prev:
Forest of Stone Steles Museum
Next:
Banpo Village Site