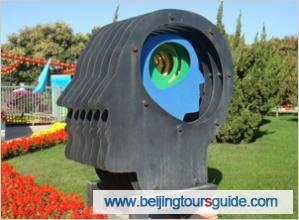 Located in east of Shijingshan District, an area of 162 hectares, Beijing International Sculpture Park is a national grade theme park in sculpture art and has become the largest scale of its kind. It opened in Sep, 2002 and at the same year ranked among the '10 Fine Parks in Beijing'.
Beijing International Sculpture Park is a masterwork that opens Beijing's urban cultural construction in the 21st century. It is an international sculptures collection and exhibition based park that integrates sculptures appreciation, study, and popularization, with relaxation, entertainment and travel. Until now, the park has housed more than 180 pieces of sculpture artworks from over 40 countries, including carvings, reliefs and frescos, all of which are excellent in the world. The distribution of sculptures is designed in a theme of 'being modern, terse, interactive, and developmental', and all of them integrates into one with the surroundings. Not only can the tourists see beautiful garden scenery but also the cultural impact by the sculpture art, which represent the concept of the park when it was constructed. Two parts compose the park: the east garden displays human cultures, and the west part expresses the pastoral beauty; they are complement with each other, picturesque like painting and poem.
Beijing International Sculpture Park, with the idea of 'environment-oriented and people-oriented', has become an authentic international standard sculpture park and a new landmark of Beijing.
Bus Line:
Take 337,373,452,76,472,473,736,728 and get off at Yuquanlukouxi Station; take 389,452,472,78,79,597,736,958,特10 and get off at Luguludongkou Station; take 338,436,597,472,473,736,78,79 and get off at Yuquanlukounan Station.
Open Hours:
6:30-21:00
Admission Fee:
RMB5 off season, RMB10 off season.
Prev:
Qinghua Park
Next:
Rendinghu Park