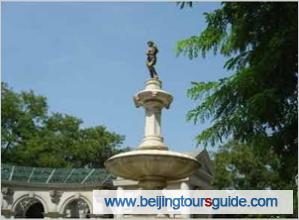 Rendinghu Park is a European style garden, located in the famous Liupukang Street, Xicheng District. It faces the masses and has become an ideal place for their association, dance, leisure and exercise.
The park is ecological. There is an artificial wetland growing with a variety of aquatic plants. The lighting system in the park adopts solar energy, and the rain water collection is functioned on the lake surface.
Besides, it creates a European courtyard style, with parkland vegetation, interesting fountains, and European style sculptures everywhere. The world garden history scenic spot opens a window to the western gardens. Step into the south gate, one can first see a dignified and colorful peristyle; in the center, is a fountain called 'a woman out of bath', and then comes the Chenjiang Garden where tens of fountains splash in all directions, making a booming sound like goldstone music. Climbing the stairs, arrive in the world garden history center. A white marble fresco tells the history, and then is the fantasy Garden of Eden, the gardens of ancient Rome, Egypt, Babylon, Islam, and the Versailles palace garden, Italian terrace garden. Finally, reach the north park where in the mirror tranquil lake, stands a group of modern sculptures 'the Rhythm of Life', producing a vigorous strength to strive forward.
Bus Line:
Take No.27, 345, 55, 305, 60 and get off at Houjiutiao station.
Open Hours:
6:00-21:30
Admission Fee:
Free

Prev:
Beijing International Sculpture Park
Next:
The Grand Canal Water Dream Park