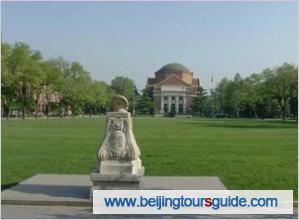 Qinghua Park, located in the west suburb of Beijing is where the famous Qinghua University located. Qinghua Park was the eastern part of Xichun Garden and was named the same while the western part was called Jinchun Garden. The whole Xichun Garden was the temporary imperial palace of Emperor Kangxi for short stays.
In the late Qing Dynasty, the garden was endowed by Emperor Daoguang to Prince Yizong, his fifth son. During the Anglo-French Allied Force Aggression in 1860, the west part Jinchun Garden was burned into a desert and Qinghua Park is one of the few existing architectures of that period, called Yuanmingyuan period, so it means a lot for its protection.
The scenery in the park was especially charming and numerous poets made poems to eulogize it. One of the most attractive spot is the Shuimu Qinghua which is composed by an I-shaped courtyard (two buildings are connected with a short corridor) and a pond. Right above the courtyard, there is a wood board inscribed by Emperor Kangxi with the words 'Shuimu Qinghua'. Down to the two deep red pillars are the poetic couplets by Yin Zhaoyong, a famous officer in the Ministry of Rites, who served 3 generations of emperors. The pond, planted with lotus, together with the courtyard and corridor on the bank set off with each other, which is comparable with Xiequyuan in Summer Palace. Qinghua Park got the name due to this rare scenic spot.
In 1910, Qinghua School was built in the park and it was the former body of the Qinghua University. Qinghua Park, with the brilliant knowledge air of the university has got its culture well retained and displayed.
Bus Line:
Take No. 307,319,331,355,375,438,562,628,656,731,957快2, 运通110 and get off at Qinghua Ximen Station.
Open Hours:
24 hours
Admission Fee:
Free
Prev:
The Lotus Pool Park
Next:
Beijing International Sculpture Park