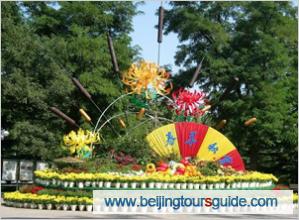 Located in southeast of Guangming Bridge, southeast 2nd ring of Beijing, Longtan Park is a tourist attraction with beautiful garden scenery and a rich culture.
Longtan Park got its name due to the Longtan Lake (Dragon Lake) and the theme of the park is Chinese dragon culture. The pavilions, bridges, gates, halls, islands, lake and trees are named with dragon, such as the Dragon Gate, Dragon Lake, and Dragon Jujube.

There are several tourism highlights. Longtan scenic spot, situated in the north of the park is a good attraction. The lofty Dragon Hill with 14 grotesque peaks stands in the water, a waterfall pours down straight, which, seen from far, is like a huge potted landscape. In the Lotus Pond and Islet, southeast of the park, a 40 m long corridor connects two islets and cuts out a pond where grows fragrant lotus and soft reed; fish swims and remarkable rocks scatter along the bank. Thousands Willow scenic spot, located on the lake banks, in the northeast of the park, is formed by a large amount of various willows including weeping willows, erect willows, hoary willows, Salix leucopithecia and Salix X areo-pendula, etc. The stone forest in the east of the park is spectacular and the Shi Chuanxiang Memorial Hall is built in memory of Shi Chuanxiang, a model worker as a nightman. Bungee jump program is very exciting and could be played by three persons simultaneously.
Bus Line:
Take No. 6, 12,620,116,807 and get off at Beijing Youleyuan Station.
Open Hours:
5:30-21:00
Admission Fee:
RMB2
Prev:
Taoranting Park
Next:
Jingshan Park