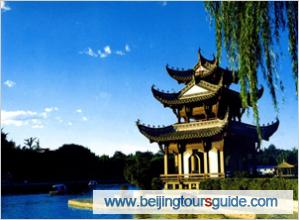 Taoranting Park was constructed based on the Taoranting Pavilion as its center, one of the four famous pavilions in China. The park covers an area of 59 hectares including water surface of 17 hectares.
It is a modern garden that highlights Chinese pavilion culture. There are 36 pavilions in total, relocated, imitated or originally designed. In 1985, Huaxia Reputed Pavilions scenic spot was built. Every pavilion in the area is with legend, myth or allusion, which makes the park well-known both home and abroad.
The main sights consist of the Benevolence Temple built more than 700 hundred years ago in Yuan Dynasty, the famous Taoranting Pavilion included, a sightseeing place popular among men of letters and bureaucrats in the feudal China; South Bank Flower Street, covered with over 30,000 flowers, very splendid; Cloud Drawing Storied Building where the emperor did writing, drawing and reciting poems and composing music and which is relocated perfectly into the Taoranting Park.
Besides, several modern entertainment facilities are established in the park, including the pleasure boating, water paradise, play field, restaurants, hotels and some commercial sites. With the peculiar pavilion culture, Taoranting Park is becoming a hot tour destination which attracts 7 million people every year in average, 60,000 in the peak for daily visitors.
Bus Line:
Take No.40,724,14,102,106,613,66,343,20,381, 特5,854 and get off at Taipingjie station or Youyongchi station; take No.59,40,724,854,613,819 and get off at Taoranting station; take No. 800,122,721,741,特3,958,939,744,运通102,运通202 and get off at Beijing Nanzhan station.
Open Hours:
6:00-22:00 (summer); 6:30-21:00(winter)
Admission Fee:
RMB2
Prev:
Purple Bamboo Park
Next:
Beijing Longtan Park