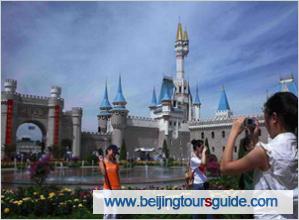 Beijing World Park is located in Fengtai District, Beijing, 16km away from the city center, covering an area of 46.7 hectares. The park is a theme one that displays the miniatures of places of interest from all over the world and it is one of the greatest in Asia of its kind.
In the park, tourists are able to have a view of the world without going abroad, which was just the building intention of the park. The layout is arranged in accordance with the five continents. There are 119 miniature scenic spots from 50 countries, including the world reputed Egyptian Pyramids, France's Eiffel Tower, Notre-Dame of Paris, American White House, Capitol and Lincoln Memorial, Sydney Opera House; and outstanding architectures from other countries, such as the Japanese style or Italian style gardens. The sculptures or carvings are lively including the Statue of Liberty, Little Mermaid (Denmark), David, Venus, Chopin, etc. In addition, there is a river system which is distributed based on the shape of the four oceans.
The park also integrates entertainment, shopping and catering. For example, there are the amusement places including the laser fountain, maze of plants and fairy world; the international shopping street; and the international folk village, etc.
Bus Line:
Take特7, 937支,967,959,913,944,692; take the special shuttle bus at Xibianmen master station; take the special bus at Hushilu station.
Open Hours:
9:00-21:00(summer); 9:00-17:00(winter)
Admission Fee:
RMB65 adult, RMB35 student on season, RMB 45 adult, RMB20 student off season.
Prev:
The Grand Canal Water Dream Park
Next:
Chinese Ethnic Culture Park