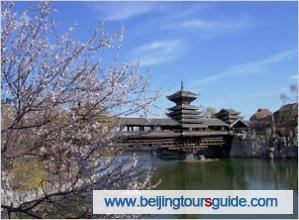 Chinese Ethnic Museum/Chinese ethnic Culture Park is an anthropological museum that is themed with the propagation of Chinese ethnic culture through the traditional architectures, folk customs, folk songs &music, crafts making and gourmet food of 56 nationalities in China. It has now become an import base for the presentation, protection and exchange of ethnic culture and the related heritages.
The park is located in the Olympic Green, covering an area of 50 hectares. There are 56 ethnic villages, 100 landscapes, 200 ethnic buildings, 100 ethnic exhibits, 100,000 ethnic collections, 1,000 ethnic souvenirs and 200 ethnic foods, 800 ethnic staff members included.
The ethnic culture activities are quite attractive beside the ethnic architectures. There are a rich variety of activities through which one can directly experience kinds of interesting ethnic cultures. By a join-in the ethnic gatherings, tourists could participate into many ethnic festivals, such as the Water- splashing Festival of Dai people, Tibet Shoton Festival , the Fashion Show of Yi people, and the Munao Singing Festival of Jingpo people. Another activity is the traditional crafts making, a good way to succeed the valuable culture heritage. Farming activities including rice transplanting, wheat cutting display you a live show of the agricultural activities of ethnic groups. In addition, there are also student oriented activities in the ethnic education.
Subway:
Take subway line 10 and get off at Beitucheng station.
Bus:
Take No.113, 839
Open Hours:
8:00-18:30(May-Oct), 8:30-18:00(Nov-Aug)
Admission Fee:
RMB90 adult, RMB65 student.
Prev:
Beijing World Park
Next:
Beijing Zhongshan Park