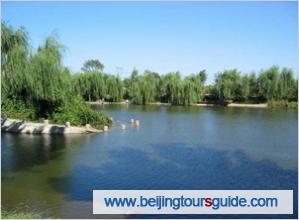 The Grand Canal Water Dream Park, located in Lucheng Town, Tongzhou District, covers a water area of 180,000 square meters. It is attractive for tourists because not only can they have a stroll along the ancient canal relics but also see the peacock shows its tail in the zoo area. There are five scenic regions in the park.
Water games area: covers 100,000 square meters, including a fishing island, a 1km or so long corridor, a triple-lap waterfall, rock climbing, painted pleasure boats, pedal boats, bamboo rafts, bumper boats, yachts, waterwheels.
Nature area: planted with towering trees, reeds and willows at the lakeshore. There's zoo area where houses camels, peacocks, Ebian cattle, donkeys, pigeons, wild ducks, etc. Moreover, here one can feel the flavor of the river town in south China-the antique street, corridors, humble cottage. Imagine taste tea, have farmhouse cooking and then have a small nap while appreciate the beauty.
Fields zone: experience the picking pleasure in the fields including a variety of crops, such as vegetables and fruits. Besides, tourists are able to see the traditional mill, windlass and also play the old entertainment programs including spinning top, sediment fun and marbles. A ride on the camel, donkey or the ox-cart must increase your excitement.
Folk-custom area: Shanbei cave dwelling with a sleeping bed which is made of earth and feels cool in summer and warm in winter; Mongolia camp that integrates with accommodations, song and dance, bonfire party. Tourists can also experience the traditional fun of making dumplings, Caisui, setting off firecrackers and flowing festival lanterns.
Culture and science popularization area: houses the stone carvings of several hundred years' history, the exhibition hall for water conservation history and water saving facilities.
Bus Line:
Take No. 938支4, get off at Nanliugezhuang Station and walk north for 300m.
Open Hours:
7:00-18:00
Admission Fee:
RMB20

Prev:
Rendinghu Park
Next:
Beijing World Park