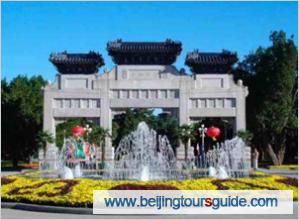 Located south of the Forbidden City, west of the Tiananmen Square, Beijing Zhongshan Park was the original place of the altar Temple of She and Ji (in ancient China, She is the God of land, Ji is the God of Grain; She and Ji were regarded as the basis of the country). In memorial of the great country leader Sun Zhongshan, the park was renamed as Zhongshan Park.
The Altar of Gods of Sheji is a main building of the park. The altar is a three-layer square platform built by white marbles; on the alter surface are covered with the Five Colors Earth, tribute paid by regions all over the country. The five colors earth was yellow, green, red, white and black and was placed in five directions respectively the middle, east, south, west and north, which indicate that all the earth in the country belongs to the emperor. In the center of the platform stands a square column, signifying that the emperor's reign would be everlasting just as the mountains and rivers. The emperor held the sacrifice ceremony every February and August.
In the north of the altar platform is the Zhongshan Hall. A white marble made statute of Sun Zhongshan is right inside the hall, 2.1 m high. An exhibition was held, displaying the copy of Sun Zhongshan's manuscripts, clothes, books, seals, daily items and other his relative things.
There is a splendid sight in the dolmen. A locust tree was born in the cypress of its break in the trunk. The two trees combine into one and grow naturally in a manner like they hug with each other.
A concert hall is outstanding in the park both for its superior location and peculiar human environment. It was built in 1942 and now is an international level theater, an ideal place for playing and enjoying classic music.
Beijing Zhongshan Park is prepared to declare the World Cultural Heritage and is the first choice among the 35 Zhongshan parks in China.
Transport Line:
Bus: Take No.4, 5, 10, 22, 37, 52, 726, 802, 特1 and get off at Zhongshan gongyuan(Zhongshan park) station. Come to the north side of the road, walk eastwards for 5min and arrive at the south door of Zhongshan Park.
Subway: Take Subway Line 1, get off at Tiananmen West station; take exit B, walk eastwards for 5 min and arrive at the south door of Zhongshan Park.
Open Hours:
6:00-21:00
Admission Fee:
RMB10
Prev:
Chinese Ethnic Culture Park
Next:
Purple Bamboo Park