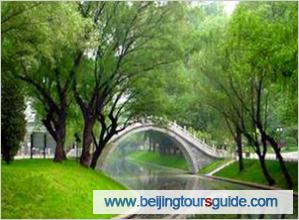 The Purple Bamboo Park is located west of Beijing Capital Gymnasium, built in 1953. There is a Ming dynasty Buddhist temple called Purple Bamboo Temple inside, hence the name of the park. The park was constructed in a basic pattern of 3 lakes-2 islands-1 river-1 canal, covering an area of 48 hectares, outstanding for the waterscape and bamboo.
The park wins its fame for bamboo. Various bamboos are planted including purple bamboo, green bamboo, mottled bamboo, garden pink, and phyllostachys aurea, etc. Everywhere in the park integrates the factor of bamboo, such as the stream, stones, trees, buildings, forming into different bamboo scenery of which the mottled bamboo garden is the most representative, reputed as 'the garden in the garden'.
Cruise in the water area is especially popular and there are 3 boat types including hand boat, pedal-powered boat and battery boat.
Transport Line:
Bus Line: Take No. 114,118,334,360,362,482,534,87,特5,运通104 and get off at Zizhuyuan Nanmen Station; take No. 320,332,808,563,689,697,717,814,特4,特6,运通105,106,205 and get off at Guojia Tushuguan Station; take No 347, 360快and get off at Baishiqiao Xizhan Station; take 362,534,运通110,944,944支,374,482 and get off at Zizhuqiaobei Station; take 323,374,394,437,658,699,74,运通103,108 and get off at Zizhuqiaonan Station; take 300,300快,特8,特8快,323快 and get off at Zizhuqiao Station.
Subway: Take subway line 4 and get off at National Library Station.
Open Hours:
6:00-22:00 (May-Sep); 6:00-21:00(Oct-Apr)
Admission Fee:
Free
Prev:
Beijing Zhongshan Park
Next:
Taoranting Park