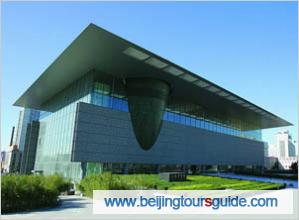 There are two Capital Museums in Beijing, the former one and the new one. The former Capital Museum is located in the Confucius Temple. As the need arisen to exhibit more historical relics, the new Capital Museum commenced its construction in December 2001 and was opened to the public in May 2008. It is first-rated museum in China and also one of the most advanced in the world. The Museum has become a must - see destination of tourists and the ideal place for those who don't have much time available in Beijing.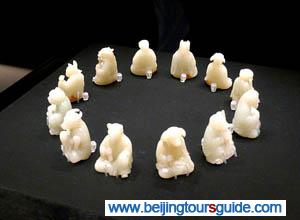 12 Jade Zodiac
The museum has its distinct architectural features. It applies the typical Chinese classical building characteristics and also integrates bright modern factors. The concept of the design is based on human and cultural heritage to serve the community and highlights the harmonious fusion of past and present, history and modernism, art and nature. For example, large quantities of stones were used on the ground outside the north entrance and the reception hall to present a sense of historical profoundness. The stones are all produced in Fangshan, where was the fixed stone supplier for the ancient Beijing City. The architecture also follows the international trend. With steel-structure roofing and glass block screen wall, it makes lofty space and transparent visual effect.
Since its opening, Capital Museum has held hundreds of exhibitions in various categories concerning the ancient history, cultural relics, revolutionary history and folk custom, etc. It also brings its exhibitions abroad so as to spread the Chinese culture and make international exchanges.
In addition, the museum also has many other functions designed for the public beside a cultural facility. The reception hall is an ideal site for large scale ritual or cultural activities, such as pottery making, Chinese ink rubbing and a presentation showing how relics are repaired and preserved. In the interactive multi-media hall, tourists could watch 'The Treasure of the Capital Museum' and 'A Look at Beijing'. There are also digital movie center and conference room with advanced facilities.
Entrance fee: 30RMB
Prev:
Xiangshan Park (Fragrant Hills Park)
Next:
Hutong