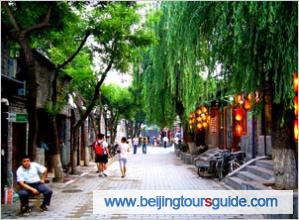 Hutong and Siheyuan
'Hutong' is the transliteration of the Mongolian word, meaning 'alley'; Siheyuan, in English commonly referred as Chinese Quadrangle or Quad, means courtyard surrounded by four buildings which is Chinese traditional residence. Hutongs are formed by lines of Siheyuans. Many hutongs and siheyuans have been broken down to make way for new roads and buildings but recently they have been protected by the government because of its important role in reflection of old Beijing people's living.
Hutong and Siheyuan tour has become a popular way for the tourists to experience the old Beijing people's life. Every day, stream of rickshaws are passing through Hutongs. Some tourists also take their one day living in Siheyuan, making dumplings with the host, eating traditional Beijing food and chatting together. It is so funny and meaningful.
Historical Sites
Shichahai is the core area as the urban planning during Yuan, Ming and Qing dynasties and many royal nobilities, ministers and celebrities lived there ,for example Prince Gong Mansion, Prince Chun Mansion, Madam Song Chingling's Residence, Guo Moruo's Residence. Besides, you could visit other ancient buildings, Guanghua Temple, Huoshen Temple, Drum and Bell Tower, Yindian Bridge, etc.

Shichahai
Shichahai is a reputed historical and cultural tourism scenic spot of Beijing City. It consists of 3 water areas (Qianhai, Houhai, Xihai), historical sites along the bank and folk custom living quarters (called Hutongs and Quads). The total area is 146.7 hectares and the best preserved place to see the style and features of old Beijing City.
It is divided into three water areas: Qianhai, Houhai, Xihai. It is a wonderful experience by paddling an oar boat on the lake.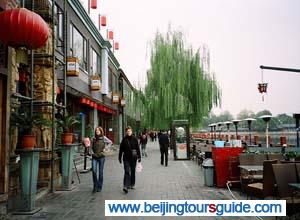 Houhai Bar Street
Houhai Bar Street
While surrounded by plenty of hutongs and siheyuans, Shichahai, especially its Houhai area is always involved in the association with bar street. On the bank of Shichahai, there are a lot of popular bars and Houhai Bar Street is most famous. Many local people and foreigners spend their night there where they could see clearly the lake scenery and the traditional Beijing buildings as they are chatting, drinking in the bar with modern factors. It is a distinct enjoyment of nature, tradition and modern living, making you more relaxed.
Prev:
Capital Museum
Next:
Niujie Mosque