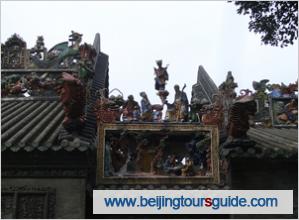 Chen Clan Monastery, also called Chen Clan Academy or Chen Ancestral Hall, was built in Qing Dynasty (1888-1894) by Chen families in Guangdong Province, and served as the hall for ancestor worship as well as a temporary residence for all the Chen descendants who came to Guangzhou for imperial examination or litigation.
The monastery is a lovely old Chinese style architecture. It is a compound complex consisting of 9 halls, 6 courtyards and 19 buildings connected by corridors. Juxian Hall is the center of the temple, now used as an ancestral hall. In the hall there is an exquisitely carved folding screen.
The superb carvings do contribute a lot to the charm of the monastery, in the forms of wood, brick, stone, lime, pottery or others. The wood artworks are especially outstanding and represent the great achievement of the carving art in Guangzhou province.
Chen Clan Monastery is the most representative folk architecture in late Qing Dynasty. In 1959, based on the temple, Guangdong Folk Arts Museum was established for the display of folk arts, such as ceramics, embroidery and carvings, which are of pretty high value for both appreciation and study.
Prev:
Six Banyan Tree Temple
Next:
Tomb of King of Nanyue