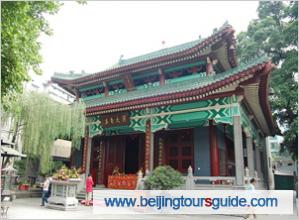 Six Banyan Tree Temple was built in 537. It is a famous Buddhist temple home and abroad. A celebrated poet called Su Dongpo visited the temple and was inspired by the Six Banyan Trees planted in its courtyard and gave the inscription 'Six Banyans' for the temple, hence the name. Many other celebrities left their traces in the temple for a view of the lofty pagoda (Flowery Pagoda), verdant trees and collection of cultural relics.
Flowery Pagoda is the symbolic architecture in the temple. The pagoda is so called due to its bright colored tower body. It is 57m high, 9 outer storeys and 17 inner storeys, built in a hendecagon shape, and is the well-known ancient high-rise building in Guangzhou. In the top floor of the pagoda is a large column that was carved 1,000 Buddhas, which was crafted in 1358 during Ming Dynasty and weighs over 5 tons. According to historical records, a sword, a copper mirror, a tripod and some other relics were buried under the pagoda.
To the west of the pagoda is the Great Buddhas Hall, which enshrines and worships three bronze Buddhas. 6 meters high, 10 tons heavy each, the Buddhas are the biggest extant bronze statues in Guangdong Province. The middle one is Sakyamuni, with the Amitabha to its left and the Apothecary to its right. They stand for present, past and future respectively.
Burning incense is a popular practice when visiting a temple, similarly in Six Banyan Tree Temple. Every day, numerous people queue to burn joss stick in order to be blessed by gods in the future days; especially on Chinese traditional Spring Festival and Lantern Festival, the temple becomes a very busy area.
Prev:
Yuexiu Park
Next:
Chen Clan Monastery