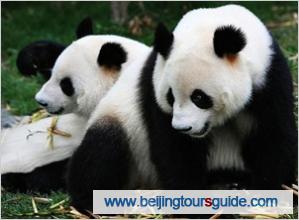 Located at the western suburb of the main urban area of Chongqing, the Chongqing Zoo is surrounded by beautiful mountains. The nature scene is a great treasure. The panda house, the highlight of the zoo, will offer you wonderful experience.
Chongqing Zoo, which was built in 1955 lies on the southern suburb of Chongqing, covering an area of more than 45 hectares. The zoo owns more than 230 species of animals, with a total amount of more than 6000 animals that ranks Chongqing Zoo as one of the biggest national urban Zoos.
It is the reserve and breeding base for the giant panda, lesser panda, the South China tigers and other endangered species. In recent years, Zoo has the new Antelope Room and Elephants Room, Giraffes Room, Panda Room, Orangutans Room, Avian Room, Tea Garden, to further protection of endangered animals.
Currently, the new Nanping breeding base for endangered animals is under construction. Children's theme park, rink, stage, reading rooms, and restaurants will be opened every day.
The zoo received more than 1 million visitors every year. Pandas are most popular among of that. If you want to see the panda, Panda Room in Chongqing Zoo is no doubt a good choice for you.
Chongqing Zoo is dedicated to providing giant pandas and their offspring a comfortable environment in order to preserve the survival of the species. The panda house is about 2 hectares in size. In the Panda Ground at the foot of a hill and by a little stream, visitors can see charmingly native giant and lesser pandas and their offspring. The zoo has been the site of one of the few successful breeding programs for the Pandas (one mother has had three).
Chongqing Zoo is a nice place to observe nature and rare animals in your trip in Chongqing.
Prev:
Ciqikou Old Town
Next:
Mogao Grottoes