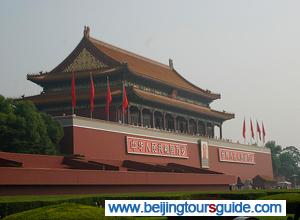 Tiananmen Tower

Day 1 Entry Beijing
Today Arrangement: Welcome to China! Our private English-speaking guide and driver will pick you up in time at the airport and transfer you safely to the hotel. A paper board with the sign of BeijingToursGuide.com and your name will be held high at the airport exit. The rest of day is free at your own leisure.
Day 2 Beijing
Meal(s): Breakfast, Lunch at Wahaha Restaurant
Attraction(s): Tiananmen Square, Forbidden City, Hutong tour with rickshaw, Temple of Heaven, Pearl factory
Today Arrangement: Beijing is the capital of China and a most popular tourism destination. Today, we do our sightseeing in places as follows. Tiananmen Square is the largest city square in the world and of great historical significance, where you could see the symbol of China-the ancient majestic Tiananmen Tower. Nearby the square, is the Forbidden City, a world reputed palace of Chinese 24 emperors in Ming and Qing dynasties. Read about the real life of the old Beijing city by a Hutong tour with rickshaw. The Temple of Heaven, much bigger than the Forbidden City, is a royal temple worshipped by Chinese emperors to pray to heaven for a good harvest. In the Pearl factory, learn about Chinese pearl culture and appreciate the dazzling exquisite pearls.
Optional Add-on: Peking Opera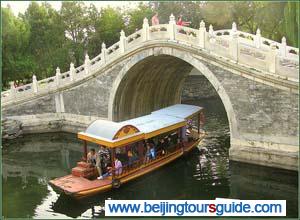 Curved Bridge at Summer Palace

Day 3 Beijing
Meal(s): Breakfast, Lunch at Jindian Restaurant
Attraction(s): Badaling Great Wall, Changling of Ming Tombs, Sacred Way, Cloisonne Factory
Today Arrangement: Today let's keep exploring the ancient city. Badaling Great Wall is the most famous and best preserved section of the Great Wall and visited by more than 300 celebrities included President Nixon and Lady Thatcher. Visit the Changling of Ming Tombs and the Sacred Way to appreciate the great building craftsmanship of Chinese ancient royal tombs and discover the mysterious history of Ming Dynasty (1368-1644). Besides, in the Cloisonne factory you could learn about the Chinese cloisonné processing crafts without paying a cent.
Optional Add-on: Chinese Kung Fu Show, Quanjude Roasted Duck Dinner
Day 4 Beijing-Xian
Meal(s): Breakfast, Lunch at Baguobuyi Restaurant
Attraction(s): Summer Palace
Today Arrangement: It will become an unforgettable experience to be immersed in the world reputed royal garden-Summer Palace in today's fresh morning. Summer Palace is a well- preserved entertainment garden of the emperors and their imperial families; a cruise in its beautiful Kunming Lake is included. After the tour, be transferred to airport and fly to Xian. Our guide and driver will meet you at Xian airport and transfer you to hotel; the rest of day is free.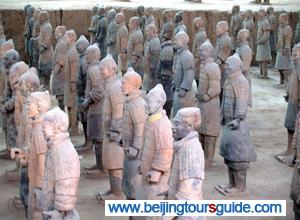 Terra-cotta Warriors and Horses

Day 5 Xian
Meal(s): Breakfast, Lunch at A Wa Shan Zhai Restaurant (Qinling Branch)
Attraction(s): Terracotta Warriors and Horses, Big Wild Goose Pagoda, Xian City Wall, Xian Art Pottery Factory
Today Arrangement: We have four tour destinations today in Xian, another time-honored city besides Beijing. The Terra cotta Warriors and Horses is one of the most significant archeological finds of the 20th century. These 6000 life-size painted terracotta warrior and horses-individually sculpted from real life models and arranged in battle formation have been protecting the mausoleum of the first emperor in Chinese history- Emperor Qinshihuang for 2,200 years. At the Xian Art Pottery Factory, you could see the copies and souvenirs and Terra cotta Warriors and Horses as well as Tang Tricolor. Big Wild Goose Pagoda is a symbol of the old-line Xian, a well-preserved ancient building and a holy place for Buddhists. Xian City Wall, as a main attraction of Xian, is one of the largest ancient military defensive systems in the world.
Optional Add-on: Dumpling Banquet, Tang Dynasty Dances and Music
Day 6 Xian-Chongqing-Yangtze River
Meal(s): Breakfast, Lunch at Cai Xiang Yuan Restaurant (Yangjiaping Branch)
Attraction(s): Ciqikou Old Town, Chonqing Zoo (Panda Room)
Today Arrangement: After breakfast, fly to Chongqing. Pick up by our guide and driver at Chongqing airport and drive to Ciqikou Old Town. Ciqikou Old Town, built in Song Dynasty (960-1279). Ciqikou, means porcelain harbor, and the community prospered form the porcelain trade. The old wooden houses and narrow streets are mostly unaltered. Closer to the river there are there are craft and souvenir shops, teahouses and music, and lots of local food and snacks. It offers a glimpse of the peaceful easygoing life in the Sichuan countryside. After lunch, go to see the cute pandas in the Panda Room in Chongqing Zoo. In the later afternoon, be transferred to board the ship for a Yangtze River Cruise, which will take you through the cradle of China, while giving you the opportunity to see some of the most spectacular sceneries. Enjoy your time!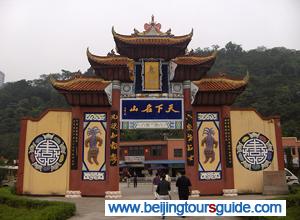 Fengdu Ghose City

Day 7 Yangtze River
Meal(s): Breakfast, Lunch, Dinner
Attraction(s): Shore excursion to Fengdu Ghost City
Today Arrangement: The first stop of our Yangtze River Cruise is the Fengdu Ghost City, a very popular shore excursion site for tourists on the Yangtze River. With a history of nearly 2,000 years, Fengdu has formed a special culture of ghosts and the afterlife, well-known as the resting place of the spirit of the dead. 76 Buddhist and Taoism temples were built and the statues inside are extremely lifelike and characteristic. The whole place makes an eerie feeling with deserted streets, tower buildings, empty shops and banks. It is a good place to learn about Chinese ghost culture.
Day 8 Yangtze River
Meal(s): Breakfast, Lunch, Dinner
Attraction(s): Shore excursion to Shennong Stream
Today Arrangement: Take a small boat to Shengnong Stream in the afternoon. Shengnong Stream is a tributary of the Yangtze River and flows swiftly from north to south through deep gorges. Drifting along it, you will be surprised by the steep ridges and peaks around, the crystal clear water, thick vegetation, wild flowers, flying birds, plank roads built along a cliff, ancient hanging coffins as well as the local sweet love songs. In the evening, various activities and performances are included on the cruise, such as the costume shows, magic shows, Sichuan Opera and the Magical Mask Changing.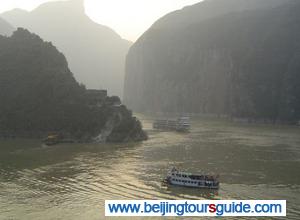 Yangtze River Cruise

Day 9 Yangtze River-YiChang-Shanghai
Meal(s): Breakfast, Lunch
Attraction(s): Shore excursion to the Three Gorge Dam Site
Today Arrangement: Today, visit the Three Gorges Dam, the largest water conservancy project ever undertaken by man. It has been a dream for several generations of Chinese people. It will be 2,335 meters long, 185 meters high, 18 meters wide on the top and 130 meters wide at the bottom. The tourists can get access to the top of the dam and enjoy different kinds of photo opportunities. Along the Yangtze River, arrive in Yichang at 1:00PM, be picked up at Yichang Port and transferred to airport. Takes the flight to our next tour city- Shanghai; be met by our guide and driver at Shanghai airport and dropped at the hotel.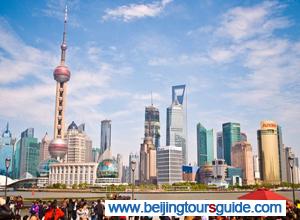 the Bund

Day 10 Shanghai
Meal(s): Breakfast, Lunch at Old Shanghai Restaurant
Attraction(s): Oriental Pearl TV Tower, Shanghai Museum, Yuyuan Garden, Silk Factory, the Bund and Nanjing Road
Today Arrangement: Shanghai is a renowned international metropolis; moreover, the perfect blend of cultures endows Shanghai with a unique glamour-the modern and the traditional and the western and the oriental. Feel the distinct city though the flowing sightseeing. Oriental Pearl TV Tower is 468 m high, highest in Asia and the third highest in the world. The architecture features 15 spheres of different sizes at different levels based on the artistic conception of 'large and small pearls dropping onto a jade plate'. In the largest ball, there is a revolving teahouse and an observatory platform. Shanghai Museum has a circular roof and rectangular base designed as the China's ancient understanding of the world: round sky and square earth. It stores 120,000 precious culture artifacts, which narrate a story of China's 5,000- year civilization. The museum is highly acclaimed internationally. Yuyuan Garden is a famous classical garden in Shanghai, built in 1577 by Pan, a government officer of Ming Dynasty. The pavilions, halls, rockeries, ponds and cloisters all have unique characteristics. In the Silk factory, we can watch the whole silk-making process and learn about Chinese silk culture. The Bund is a famous waterfront and regarded as the symbol of Shanghai for hundreds of years. It is the starting point where Shanghai walked into the modern times and a good place to know about the old Shanghai. In the east of the Bund is China's premier shopping street, the Nanjing Road, 3.4 miles long, a must-see destination attracting thousands of fashion-seeking shoppers from all over the world.
Optional Add-on: Acrobatic Show
Day 11 Depart Shanghai
Meal(s): Breakfast
Today Arrangement: Free at your own leisure till your transfer to airport for departure. We wish you have a pleasant journey home and thank you for using with Beijing Tours Guide.