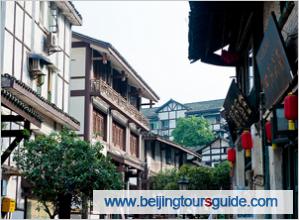 Ciqikou is an old town preserved in sprawling modern Chongqing, about an hour's drive from the city center. It is an old sleepy town built in the Ming and Qing Dynasties. The town's name, Ciqikou, means porcelain harbor, and the community prospered from the porcelain trade. Today it offers a glimpse of the peaceful laid-back life in the Sichuan countryside and is somewhere to take a break from the busy commercial world of Chongqing.
A number of old courtyard compounds still stand here. Small as it is, the town used to have several temples, and one of them, Taoism temple, had been turned into an elementary school. What makes the school special is one of its students, the Nobel Prize Winner Samuel CC Ding, in Chinese we know him as Ding Zhaozhong.
The old town has only two main streets and they've been taken up by all kinds of shops. The teahouse puts on a diverse range of entertainment with shows staged from time to time. And this is the famous Sichuan show, "Changing the face". The biggest secret is how the performer changes his masks. In this performance, he has to switch masks something like nine times. It's such a difficult trick that sometimes it does not work, but the audience will always forgive him. There was an old show in Sichuan called Nine Changes and this is from that show. There was a knight-errant called Baiyong who is brings hope to many poor unfortunate people. And when he shows up, he changes his masks nine times. It's a way of indicating that he will help people, but not ask anything in return. He doesn't let people know who he is. Today it's purely a show of skill.
Ciqikou Old Town is a fine place for you to know more about Chongqing's past. It is a good place for hanging around.
Prev:
Three Gorge Dam
Next:
Chongqing Zoo (Panda Room)