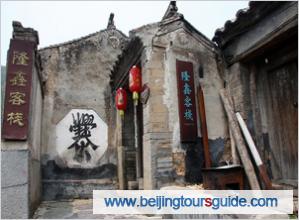 90km away from Beijing is located an ancient mountain village with peaceful tranquilities and distinctive characteristics- Chuandixia Village, which is the cultural pearl of ancient villages. The village was built in Ming Dynasty (1368-1644) and has remained the original culture and custom, relics, and of course, the beautiful landscapes. It is favored by many photography lovers and painters.
You will first be attracted by its dainty landscapes. Situated in the deep valleys, the village is circled by green pines and verdant cypresses, which make a pleasant shade all around. Green mountains surrounded, streams flowing though, birds flying with melodious sound, the village gives a particular peace.
The village layout merges with the terrain of slopes, very harmonic and orderly. When you walk on the old pavements and see the courtyards built one by one, the old Beijing people's life will come into your mind: a courtyard is surrounded by four houses; a number of courtyards make up of hutongs (alleys). The houses were built with wood and stones, and the steep stairs and streets are paved with rocks; all is so natural and simple.
The village's integration architectural style with the poetic nature expresses the villagers' love of beauty and reflects the village's culture - a pursuit of harmony between human and nature, human and human.
It is the live fossil of history. It records the historical development and relics from different periods have been reserved.

Almost every family at the village is ready to receive tourists now and the people are really hospital. You could learn the local folk custom, the legends of the village, people's life and also have the opportunity to taste the local food.
Prev:
Madian Mosque
Next:
Eastern Qing Mausoleums