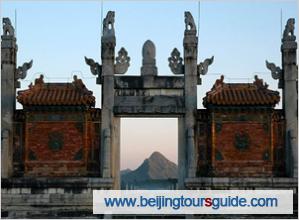 The Eastern Qing Mausoleums are among the finest and largest extant Mausoleum, located 125 km northwest of Beijing. It is the sacred burial grounds of Qing emperors, empresses and imperial concubines, covering an area of 2,500 square kilometers.
Two tombs are highlighted. Xiaoling, the tomb of Emperor Shunzhi (1638-1661) as the ancestral tomb, is the biggest and most elaborate of all the tombs. Xiaoling is lined up with the axis of the main apex of Changrui Mountain, indicating that the person buried there is the most exalted among the group. Other emperors' tombs lie on both sides of Xiaoling in a fan pattern from east to west according to the family hierarchy; while the tombs of empresses and imperial concubines are placed alongside those of their husbands, which reflects the traditional master-subject relationship between man and woman. 'Sacred ways' or brick paths connect these tombs with Xiaoling.
The other tomb especially worth mentioning is Ding Dongling, the tomb of Empress Dowager Cixi, who handled and controlled the affairs of state for more than 45 years but never ascended the throne. Inside the main hall displays the reproduction photos of Cixi's within the Summer Palace. Elaborate and highly refined decorations and paintings and carvings interior make it unique among the tombs in Qing Dynasty. Gold is the main material used in the tomb, symbol of royal family.
The minor tombs are also worth sightseeing as you learn about Chinese culture while enjoying the beauty of the area.
Prev:
Chuandixia Village
Next:
Tanzhe Temple