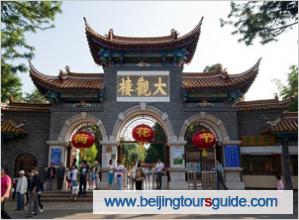 Daguan Park means the "Grand View Park". It is a name for the park and the pavilion in the area.
Being close to Dianchi Lake and with the Western Hills as the back, Daguan Park occupies a good location and perfect scenery. In 1682, a monk named Qianyin built a small temple here. In 1690, Wang Jiwen, satrap of Yunnan Province ordered to construct a park here. Halls, rockeries, pavilions, bonsais, flowers, trees, grass and porches were being set everywhere. From then on, Daguan Park became an attraction. The most famous spot in the park is the Daguan Pavilion.
Daguan Pavilion was built several hundred years ago. But because of the dynastic changes and the civil wars, the Pavilion had been reconstructed for many times. The present-day square, three-storied pavilion was established in 1883. At the entrance there is the couplet written by a famous Qing Dynasty scholar, Sun Ranweng (also called Sun Ran). This couplet formed by 180 Chinese characters is one of the most valued cultural treasures in Yunnan Province. The first part of the couplet describes the beautiful and magnificent natural views of the Park, telling people to enjoy and treasure the place. The second part reviews the 2000 years' history of Yunnan, awakens to that no matter how successful or frustrated you are, all will be in nothingness in the end.
Other sceneries in the Daguan Park also attract people. Santan Yingyue is a pool with three stone towers dividing in into three sections. Therefore, when there is a moon in the sky there are three moons in the water. Louwailou is a stone ship pavilion. From Louwailou, you can see Santan Yingyue on the right and the ocean of grass on the left. Dianchi lake and the Western Hills are not far away. Lu Garden was a private villa. It was built in 1930s and has been well-preserved. Lu Garden is a place with water lilies, roses, weeping willows and oleanders everywhere.
Daguan Park really gives a feeling of a "grand view". It is a must in your itinerary in the city of Kunming.
Prev:
Golden Temple
Next:
Flower and Birds Market