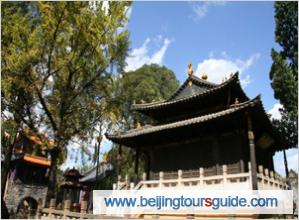 The Golden Temple (Jindian), is located on Mingfeng Hill (the Singing Phoenixes Hill), also called the Parrot Hill in the northeastern outskirts of Kunming. Seven kilometers away from the downtown of Kunming, the Golden Temple is cast entirely in bronze, weighing about 250 tons. Hills around the temple are full of evergreen pines and hardy cypresses, adding beauty to the superb scenery. As early as in Dynasty Qing, the Golden Temple earned the title of the "Fairyland of Mingfeng".
The place is a Daoist temple. There is a legend about the Temple. During the Ming Dynasty, Chen Yongbin, governor of Yunnan Province, believed in Daoism. One day he dreamed about the immortal Lu Dongbin making an appointment with him that they met each other at the foot of Parrot Hill in the next day. Shortly after the rooster crowed the next morning, Chen Yongbin stood there waiting, only to find an old herdsman leading a sheep with a rope and cooking taros down the hillside. As he took a step forward, the old man disappeared all of a sudden, so did the rope-tied sheep. It suddenly dawned on Chen Yongbin that the two pots put together shaped like the Chinese character "Lu", alluding to the family name of the immortal. It was obvious that Lu was intentionally indicating him that the scenery of Parrot Hill was wonderful and that it was a perfect place to build a temple. Thereupon Chen Yongbin began to recruit workers to build an ideal temple in the thirteenth year of the reign of Emperor Wanli (1602). Since then this wonderland has become a famous Daoist shrine in Southwest China.
Golden Temple is featured by its architecture. Its content also earns it a great fame. The area occupied by the Temple is small, but the meaning is boundless. It is a place perfect for your trip in the city of Kunming.
Prev:
Stone Forest
Next:
Daguan Park