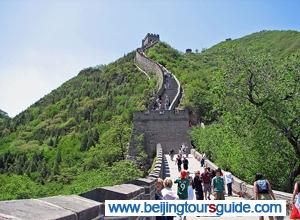 Great Wall at Juyongguan

Day 1 Entry Beijing
Today Arrangement: Our private and English-speaking guide and driver will pick you up in time from the airport and transfer you safely to the hotel. A paper board with the sign of BeijingToursGuide.com and your name will be held high at the airport exit.

Day 2 Beijing
Meal(s): Breakfast, Lunch at Green Flower Porcelain Restaurant, Dinner at Quanjude Roasted Duck Restaurant
Attraction(s): Tiananmen Square, Forbidden City, Temple of Heaven, Silk Factory, Peking Opera Show
Today Arrangement: In the morning, we will first visit the Tiananmen Square, the largest city square in the world; and then the nearby Forbidden City, the world famous majestic palace of Chinese emperors.
The afternoon starts the tour in the Temple of Heaven, a royal temple where emperors held prayer and sacrifice ceremonies to the Heaven for a good harvest. Then we will leave for the Silk Factory to appreciate the delicate silk processing craft.
After dinner, let's enjoy the gorgeous performance of Peking Opera Show.

Day 3 Beijing
Meal(s): Breakfast, Lunch at Jindian Restaurant
Attraction(s): Juyongguan Great Wall, Summer Palace, Jade Factory, Hutong tour with rickshaw
Today Arrangement: Visit the popular Juyongguan Great Wall is in the morning. Juyongguan section is one of the three greatest passes of the Great Wall, and of significant military importance in ancient dynasties. Old cannons and the stone inscriptions of ancient nobilities are one of Juyongguan's characteristics.
After lunch, there will be a stroll in the marvelously beautiful royal garden- the Summer Palace and also enjoy the cruise in its large Kunming Lake.
Finally we hold a Hutong tour with rickshaw to read old Beijingers' life and well-know places of interest in the Hutong area, such as the well preserved Prince Gong Mansion, the Bell Tower and the Drum Tower.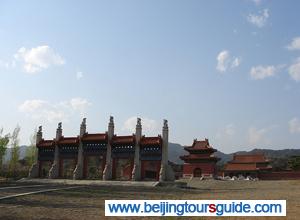 Eastern Mausoleums of Qing Emperor

Day 4 Beijing
Meal(s): Breakfast, Lunch at local restaurant
Attraction(s): Eastern Qing Mausoleums
Today Arrangement: Today we come to the Eastern Qing Mausoleums. It is the sacred burial grounds of Qing emperors, empresses and imperial concubines and is among the finest and largest extant Mausoleum complexes in China. Let's explore the mystery of Qing dynasty there!
Day 5 Depart Beijing
Meal(s): Breakfast
Today Arrangement: We will transfer you safely to the airport. Wish you a pleasant journey and thanks for using with Beijing Tours Guide.