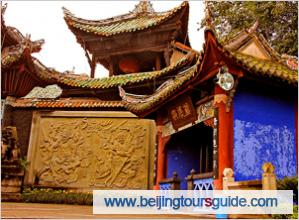 Fengdu Ghost City is the only city in China holding the flag of "ghost". It is said that Fengdu is the spiritual center along upstream of the Yangtze River. The mysterious ghost city is actually located on the mountains on the right side of the Yangtze River.
It is believed that Fengdu is the town of graveyards for Taoism. People have the faith that the spirits of the dead people gathered at this place. Thus, more than 1.700 years ago, the city shaped.
Fengdu is worth touring because it really looks like a ghost residing in the mountains. There are more then 70 Tao and Buddha temples in the town. Majority of the temples is placed on a famous mountain known as Ming Mountain. The City is also full of statues spiritually designed. Locals have annual spirit shows. There are spiritual rituals in the shows. You may find some incredible mysterious traditional Chinese spiritual secrets. Besides, these activities also provide opportunities for market services. It is time for shopping and some other social activities, such as naming you new-born baby, with help from a Taoist master.
The first stop along the Yangtze River after leaving Chongqing is Fengdu Ghost City. Boats and ships will stay here for couple of hours. You have enough time hanging around the city. The City also has a forest park, one of the most beautiful and this is the reason if one travels to the Three Forges of Yangtze River, Fandgu is the place one can't miss at any cost.
Prev:
Shudu Lake
Next:
Shennong Stream