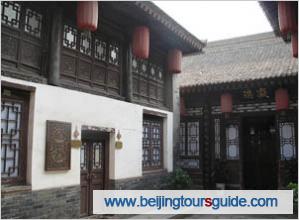 Gao's Courtyard, was the private residence of GaoYuesong, a high official in Dynasty Ming. The Courtyard was built in a period when Ming went to its end.
Gao's Courtyard occupies an area for about 2,310 square meters. With wood and brick as the main materials, the Courtyard was a gem of architecture. The master of the Courtyard, Mr. Gao Yuesong, came from Zhenjiang, Jiangsu Province. In his youth, he took part in the imperial examination and appointed as the second-rank winner at palace examination supervised by the emperor himself. Gao was loyal to the emperor and his diligence and upright personality won him a good reputation. The Queen Mother appreciated him and appropriated a large sum of money for the renovation of his residence. With this kind of support could a house being rebuilt to this large scale.
Gao's Courtyard is abundant with Chinese architect features. Gao himself came from South China. This might impact on the style of the courtyard. And climate, water and soil conditions made the courtyard a West-fitted residence on the other hand. Thus, it is a complex of two regional cultures within China. It is a nice place for guests to know residential culture of China better.
The street next to Gao's Courtyard is very prosperous in commerce. You may go shopping by bargaining the price. You can also have a rare opportunity to watch a Shadow Play here, serving as an important feature of Gao's Courtyard.
Prev:
Big Wild Goose Pagoda
Next:
Shaanxi Historical Museum