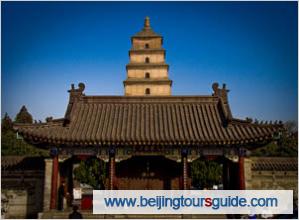 Big Wild Goose Pagoda is among one of the oldest and highest pagoda structure in China. Built with a wide bottom and narrow top, the entire structure is solid, imposing, and elegant. Big Wild Goose Pagoda is a typical Tang style gem. It was built in the year of 652, serving as a part of Daci'en Temple. Thus, it gained another title of "Daci'en Pagoda".
Big Wild Goose Pagoda had a glorious history. It had a close connection with the world-renowned Chinese monk master, Xuanzang. Master Xuanzang spent decades traveling to ancient India and sought for classic works of Buddhism. Returning to China after suffering of pains and sorrow, Master Xuanzang got support from central government of Tang and built the seven floored brick pagoda. The pagoda is the treasure house of Buddhism books, statues and sarira (meaning Buddhist relics). From the great Tang Dynasty, Big Wild Goose Pagoda had been a great "scenic spot". Therefore, many calligraphy tablets, paintings and steles exist until nowadays.
Big Wild Goose Pagoda has a height of 64.5 meters. For hundreds of years, it served as the tallest building in the city. Dynasties after Tang had repaired the pagoda for quite a few times. But the original taste exists and comes along to modern time. Big Wild Goose Pagoda is the symbol of Xian. Therefore, Xian chose its image and placed it at the center of its city badge.
Prev:
Xian City Wall
Next:
Gao's Courtyard