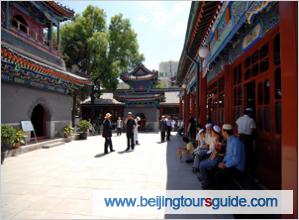 Niujie Mosque is the most ancient and majestic mosque in Beijing, located in Niujie Street, Xuanwu District. First constructed in 966, it is the spiritual center for the city's 20, 0000 Muslims and has greeted numerous Muslims from all over the world to worship.

The mosque covers an area of more than 6000 m² and includes the main buildings: the Prayer Hall, the most important building in the mosque, only open to Muslims; Bangge Lou (minaret), Wangyue Lou, a six- cornered moon observatory tower; and two stele pavilions with the inscription of the detailed history of the mosque.

The exteriors are designed in traditional Chinese style of wooden palaces, yet with a typical Arabic-style decoration, no human or animal figures which are taboo in Islam. The Prayer Hall is decorated with some ancient Arabic characters of Al-Kufi, which is rarely seen in China.

We should respect this sacred Muslim architecture and cherish the opportunity to broaden knowledge about Islam and its status in Chinese cultural history. Dress a prober dress for the visit and avoid shorts or a skirt, otherwise, you will be refused to enter.
Prev:
Hutong
Next:
Dongsi Mosque