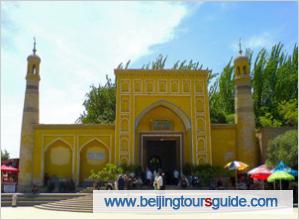 Id Kah Mosque is located at the Jiefang Road of downtown Kashgar city, Xinjiang. Id Kah Mosque is the largest of its kind in the Xinjiang Uygur Autonomous Region and also the center for Islamic activities of the entire Xinjiang region. Id Kah Mosque is well known all over the world for its long history, grand structure and splendid national features.
The big yellow-tiled Id Kah Mosque is one of the largest in China and is the religious center of Kashgar, capable of holding six thousand to seven thousand worshippers at a time. Shakesimirzha, a ruler of Kashgar, had the mosque built here first in 1442 and it was extended to its present shape through several renovation works. The mosque, constructed of yellow brick, is easily recognizable from its dominant spot on the west side of Id Kah Square.
Being the largest in china, it attracts more than 10,000 worshipers for prayers on a Friday afternoon. The call to prayer booming from the mosque can be heard throughout the city center. As long as it is not prayer time or religious holidays, tourists are allowed into the mosque. When you visit mosques, you should always remember that both men and women should always have their arms and legs fully covered. The best time to visit is probably early to mid-morning when there are few worshippers here.
Prev:
Zhiren Street
Next:
Sunday Bazaar