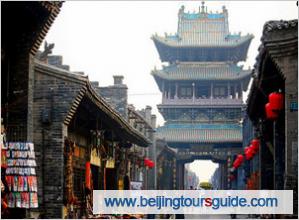 Also called South Street, Ming Qing Street was the noisiest commercial center of that time, and was reputed as the 'Wall Street of China', where you can still find the tire trails of the running -over carriages.
The street was located in the center of the city and stretches for over 750 meters. The street is not wide. It is featured in its concentration of as many as one hundred shops and local houses along two sides of the street. The architectures were built with bricks and stones in distinctive Ming (1368-1644) and Qing (1644-1911) style. The shops are orderly arranged along the road, involved in nearly all the commerce areas including finance, silk, clothing, medicine, Chinese Fans, lanterns and general merchandise. Now some shops have become museums or have changed their business, for example, Yonglonghao Exchange Shop is now a lacquer museum and Yunjincheng Chinese Shop as Pingyao Traditional Famous Food Restaurant. However, most remain their original appearance, making the street an excellent location to learn about the history of that time.
There is a tall pavilion building at the center of the street, which forms the axis center of Pingyao city. It is the highest building of the city and is the best observation platform for a panoramic view. The building, along with City Wall, has become a witness to the history of the old city, thus called as 'City Building' by people. The spot is also named 'Golden Well Building' due to a well in its southeast that is said to have gold color water.
Local delicious food is another attractive point that you couldn't miss: noodles dishes, savory beefs and the fragrant and dainty 'Wantuo', making your mouth water.
Prev:
Ri Sheng Chang Private Bank
Next:
Jinci Temple