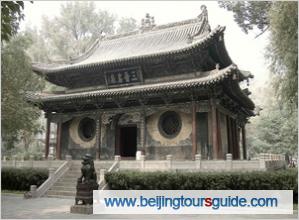 Jinci Temple is located at the foot of Mt. Wengshan, 25 km from the downtown Taiyuan City. The temple is world famous for it is an ancient ancestral temple, which is rare in China. It is a precious historical and cultural heritage both in China and in the world for its garden design, sculpture, fresco, and inscription art.
Jinci Temple has a long history, which can be traced back to Northern Wei Dynasty (386-534 A.D.) in memory of Shuyu, the second son of King Wu of West Zhou Dynasty (1066-771 B.C.). The descendants of Shuyu built the temple to honor his great achievement for his ruling state. Then it experienced several repairs and expansions in the following dynasties including Northern Qi, Sui, Tang, Song, Yuan, Ming and Qing.
Three parts can be divided for the sightseeing: central axis, north and south. The main buildings are distributed along the central axis from east to west: Shuijing Platform, the stage for dramas; YuzhaoFeiLiang (flying bridge on a fish pond), a unique ancient bridge with a cross shape like a great hawk spreading its wings; Saint Mother Hall, the most famous building in the temple, constructed for Shuyu's mother, etc. North to them are Wenchang Hall, Temple of Guanyu, Study Platform, etc, which is outstanding for the tall pavilions and grand buildings. South are distributed with Long Life Spring Pavilion, Water Mother Hall and SheLiShengSheng Stupa, which is great for a panorama of the whole temple.
A locust tree is magic, which is a thousand years ancient tree and was said to be a dead tree and revive after hundreds years sleep.
Prev:
Ming Qing Street
Next:
Qiao Family's Compound