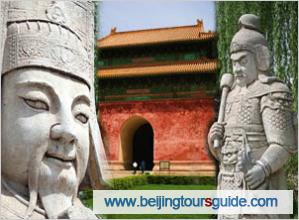 It was located in Changping district, on the western north outskirt of Beijing, an area of about 120 km². The site was a cluster of Ming dynasty royal tombs: 13 tombs of emperors, 7 tombs of imperial concubines and 1 tomb of a eunuch. The construction began in 1409, the 7th year of EmperorYongle's reign and ended in 1644 when Emperor Chongzhen, the last Ming dynasty emperor was buried in Siling Tomb. The tombs was built at the foot of Tianshou Moutain in three sides: east, west and north, according to "fengshui" theory( geomancy) as the rare propitious place. In 2003, Ming Tombs was listed in the World heritage list by UNESCO.
The tombs are encircled by the mountains, built in the middle plain area, with a winding river in front. The landscape and sceneries are extremely beautiful. It is the world's tombs with the most emperors .Of the 13 emperors tombs, four are opened publicly, respectively, Changling Tomb, Dingling Tomb, Zhaoling Tomb, Shenlu Tomb. The former two are most popularly visited by tourists.
Changling Tomb
Situated at the south foot of Tianshou Mountain's main peak, Changling Tomb is the multi-burial of Emperor Zhudi and Empress Xu. Among the 13 emperors' tombs it is the ancestral tomb, best preserved in its surface structures, the largest in scale and earliest built. Due to technological reasons, the excavation of its underground palace has been stopped. However, the ground architecture was characterized most by its grand scale. As the main palace hall, Lingen Temple was beyond Taiji Hall of the Forbidden City in size and is the largest Nanmu wood made palace, 60 wooden pillars supporting the roof, incredibly big and thick.
In the Lingen Temple, there is Emperor Zhudi's statue, around which are delayed delicate valuable funerary items excavated from Dingling Tomb. The golden crown is one of the excellent. The crown was made of spun gold, light, elegant and luxurious .All woven pattern was welding in such a proficient way that no joint, no break of the wires could be found. The crown is transparent and light, giving a feeling of leno.
In Minglou (also called the soul tower, the front building of a emperor's tomb) lay a stone altar table with stone utensils to contain sacrifice. Many tourists throw coins and money into the holy containers, thinking it might bring them luck.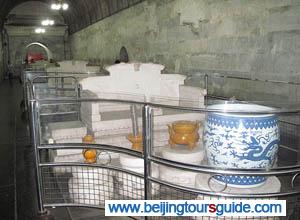 Dingling Tomb
Dingling Tomb
Dingling is the 10th built tomb, for Emperor Wanli and his two empresses. The construction started in 1584 and completed in 1590, with an area of 180,000 m². Right behind Minglou is the main body of the tomb-the underground palace which is the only excavated one among the 13 emperors' tombs. The cultural relics are 3000 pieces four of which are defined as national treasure: the gold crown, the phoenix coronet, a legendary luminous pearl and Ming three colored wares. This underground palace was formed by three 3 halls the same look as the ground palace: the main hall, the side hall and the front hall. The whole palace was entirely made of stones, mainly bluestones. There are 7 white marble doors, every weighing 4 tons. Here you could see the coffins of Emperor Wanli and his two empresses. Beside the biers are 26 red painted wooden boxes filled with funerary things.
Dingling is the first and the only excavated one in the underground palace among the 13 emperors' tombs and attracts millions of tourists to experience the legend of Emperor Wanli. Visitors are thrilled by this ancient royal tomb.






Entrance fees:
Changling Tomb: April 1-October 31: 50RMB
November 1- March 31: 30RMB
Dingling Tomb: April 1-October 31: 70RMB
November 1- March 31: 50RMB
Prev:
Yuan Ming Yuan Park
Next:
National Center for the Performing Arts