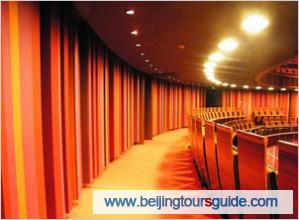 The National Center for the Performing Arts (NCPA) is colloquially named 'The Egg' due to its shape. It is located to the west of Tiananmen Square and the Great Hall of the People and near the Forbidden City. It is of modern design but melts into the surrounded historical buildings. It was designed by the French architect Paul Andreu: the appearance of the Center was an ellipsoid dome made of titanium and accented glass; the dome is completely surrounded by a man-made lake, which looks like an egg floating on water.
The dome is 212 m in east-west direction, 144 m in north-south direction and 46 m high. The main entrance is at the north side and there are 3 major performance halls inside: the opera hall used for operas, ballets and dances, the music hall for large symphony and national/folk music performances and the theater hall for plays and Beijing opera.
Since it's open to use, it has received numerous world famous performance groups and become an international art exchange platform.
Entrance fee: 30RMB
Prev:
Ming Tombs
Next:
Peking Man Site