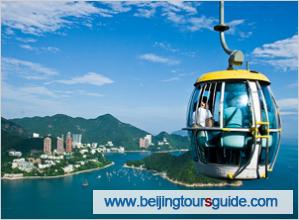 Repulse Bay is the English name of an area on the south part of Hong Kong Island. The place was named after a Royal Navy ship called Repulse. Nowadays, Repulse Bay is a famous holiday destination in Hong Kong, and locals are proud of possession of an apartment in the place.
The coastline of Repulse Bay is winding and shapes like a crescent moon. The long and wide beach, soft tiny sand and silent sea make Repulse Bay paradise for real. Every day in different time, Repulse Bay shows unique beauty of different tastes. The Bay during sunrise time is for those morning joggers. The sunset time is a good opportunity to appreciate the entire landscape. The other time, the Bay is a paradise for sunbath and swimming.
On the east beach stands traditional Chinese architecture of Hong Kong Life Saving Society. Huge dragon decoration on the roof attracts tourist's eyes. A garden of the complex owns a way directly to the shore. Next to the architecture, there is a park with huge statues of Goddess Kuanyin and Goddess Matsu. Goddess Kuanyin is the incarnation of mercy in Buddhism, while Goddess Matsu is the protector of fishermen. Locals pray to the Goddess and wish their good harvest in a new year.
The Repulse Bay Hotel is a landmark of the region. The hotel was opened in 1920. The style of the building is colonial. When it was opened, the governor at that time attended the ceremony in person. Nobles, merchants, officials and other celebrities were fond of being at the Repulse Bay Hotel for social activities. During WWⅡ, the Repulse Bay Hotel was confiscated as fortress and hospital of British army. After the War, the Hotel was reconstructed and attracted celebrities from all over the world. It became a hot place for making movie or writing novels. The place is a start point of colonial culture in Hong Kong. It is a site for getting more knowledge on a modern Hong Kong's development history.
Prev:
Aberdeen
Next:
Stanley Market